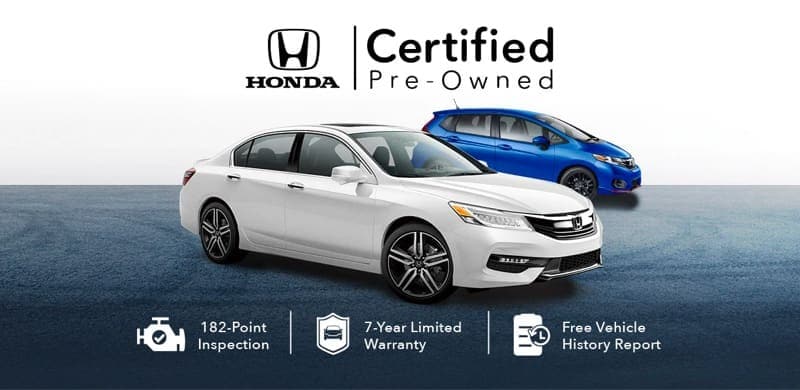 Certified Pre-Owned
Nothing compares to the quality of a Honda. No other program comes close.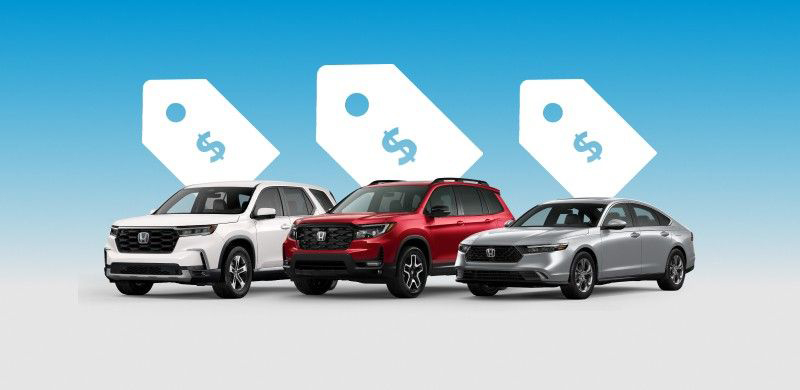 Current Offers
See this month's featured current offers going on now on Honda vehicles.
Our Reviews
Mr.McShan is very helpful and informative. He was very patient and attentive to my needs and wants. He explained every step of the process of purchasing my new vehicle.
On my visit to Townsend Honda, Mr. McShan was very helpful with our car buying process. He was attentive to my daughter's questions and made her feel comfortable with the car.
We pulled into the parking lot and saw an all black and tinted out Honda Accord Sport and it was very eye catching. McShan walked up and greeted us with a smile and hand shake and I knew at that point it was going to be a great day. As we walked and talked, he showed us a brand spanking new 2022 Honda Accord Sport and it is a Still Night in color. My heart started beating fast because I knew this was the one for us. I'm very pleased with McShan and he's by far one of the best salesmen I've ever dealt with over the years. Nothing less than 5 stars from us.
McShan and Brian were awesome…best and easiest experience…made me feel like family and no pressure …one satisfied customer right here
I just left Townsend Honda, & my experience was nothing short of amazing! I worked with McShan & he made sure I left with my dream car!
I stopped by Townsend Honda on December 11, 2021. I was searching for a red Honda Accord. I had a certain one in mind. I wanted a red 2021 or 2022 sport. I didn't have alot of time. I drove into the parking lot and was greeted with a smile by McShan. He asked me what I was looking for and I told him. He laughed because I knew it wasn't going to happen. He did accommodate me well with explanations and inventory that was on the lot and what was in transit. He gave me his card and told me to give him a call if I had any further questions. A few days later he called me to see if I found what I was looking for? NOPE was my response. He told me the 2022 Silver Honda Accord Sport was calling my name and it was waiting on me. He sent pictures and I showed it to my husband and I agreed that I would look good in that specific color after all. Fast forward to December 18, 2021. I became the owner of a Silver 2022 Honda Accord Sport. My husband informed me that McShan was friendly, very knowledgeable and professional. He made sure to tell me all the documents that were needed for purchase. He gets 5 stars!!!!!!!!!!!!!!! Merry early Christmas to me. LOL
Great working with Mcshan. Very helpful and honest. Thanks Mcshan. Check them out. They will treat you right.
Very helpful and worked fast will definitely be back for another car. Tim explained everything and got my wife and I in the car she wanted.
I had a very good experience at Townsend Honda. My 06 Honda Accord was totaled a few weeks ago, and Tim Jones very patiently showed me all the new features the Honda has to offer, and allowed me to test drive one. He willingly worked with me on the price, and patiently waited on me to choose a color. Corwin Sledge also did a wonderful job as well! I was very pleased with my experience and I absolutely LOVE my car.
Tim Jones is a great salesman. He goes out of his way to make sure everything goes very smoothly. I talked to him by phone on a Monday afternoon about the Honda Civic I wanted. When I got off on Tuesday I went to Townsend Honda and walked in and signed papers. I was out the door with new car in less than a hour.
The team at Townsend Honda are more than flexible! I had one vehicle for a few days and took it back deciding that another one would be better. I can't hardly imagine purchasing a vehicle anywhere else!!
Thanks to Tim Jones & Corein Sledge purchasing a vehicle at Townsend Honda was a great experience! I have purchased several cars from Tim over the last several years and I couldn't ask for a more informed or better sales rep than Tim, thanks for taking the hassle out of purchasing a cat.
I had totaled my work car the previous day and needed a car asap. My credit score wasn't perfect and they went above and beyond to get me financed. Everyone there was very helpful. By the time I left there that evening I was driving a very nice Honda Accord. When it comes time to purchase again I will definitely be giving them a call.
My family has purchased 4 cars from Tim Jones at Townsend Honda - and we will purchase others going forward! Tim is honest and friendly - he will work hard to find the car you need!
My husband and I went last Thursday to look at getting a new car for our 17 year old daughter. We talked to Tim Jones and told him we we're just looking at options and were going to compare Honda, Toyota and Nissan to see what was the best fit for us. He told us all the ends and outs of the car we were most interested in. He pointed out all the pros as well as the cons(which were few). After leaving Honda, we did compare the other two vehicles that were comparable to the Honda. We then took all of this info to our daughter, as it was her choice as to which she wanted. The next day, she went to test drive the Honda. She fell in love with the civic ex! And Tim as well! He made her feel important (like she was the one buying it!), made sure she understood all of the features , which were a little overwhelming because this car is so smart and advanced and made sure she was comfortable on test drive. It only took a look and she wanted the car. The only draw back was eh color wasn't her first choice. He had explained how few of them were avaliable but that he would try to get the color she wanted most, as she have him three options. Late Friday evening, after the dealership had closed, Tim sent a message with pictures of the car she wanted the MOST, sitting in his lot!! I cannot explain how happy that made my baby girl! She will get to pick her car up in a couple of days .... Because of our work schedules. Tim went out of his way to get THE CAR she wanted! I cannot say enough wonderful things about him! He is a Gid send to everyone who has the pleasure of dealing with him. This has been by far the best experience buying a new vehicle.
I love my Honda Civic and really appreciate the great service I received. Tim Jones and Debra Dillon were both so helpful and so friendly. It was the quickest, most painless and most fun car buying experience I've ever had. I will definitely be back for my next vehicle!
I traded my Toyota Sequoia for a Honda Odyssey and it was one of the best decision I have ever made. I was greeted at the door by Tim Jones and I was in good hands from there. The process went smoothly and I got a great deal. I was very impressed with the process. I would highly recommend Townsend Honda and Tim Jones for next car purchase.
Hard to believe one can describe buying a car as pleasurable, but it was, great dealership. Tim Jones is terrific. No hassle. no pressure. Recommend to anyone looking for a car.
He has a crazy sense of humor and is very helpful when it comes to chosing the right vehicle for your needs. Thankful that he made me consider another mini van. Our family is loving it.
I had a great experience at Townsend Honda. Tim Jones was very helpful and answered any questions I had about the car I was interested in and would later purchase. He calls to check on my car from time to time to make sure I am still enjoying it. I highly recommend checking out Townsend Honda next time you are considering purchasing a car.
Tim helped us replace a car that had been totaled in an accident. He found us the perfect used CRV at a price we could manage. The finance manager and other staff were terrific, too, and made us feel like part of the family. Tim followed up with us after the purchase to be sure everyone was OK, and recently, he even touched up some ugly door dings for me! I would highly recommend Tim to anyone looking to buy a car.
We had great experiences with Tim Jones. He worked to find us exactly what we needed at a very reasonable price. We have bought 2 cars from him and we will shop there again!
My new husband and I went to purchase our first car. Tim was super helpful and friendly. He was very honest with us. We came in knowing nothing about buying a car and left feeling like we learned a lot and got the best deal for our money. The whole process was very quick and we are very happy with our purchase. Tim even checked up on us a couple months later to make sure we were still happy with it. Great customer service! Being young, we had bad experiences at other dealerships (I.e. People not taking us seriously, thinking we were kids who just wanted to test drive the cars for fun), but Tim treated us like adults and serious customers, which we were. Tim and Townsend Honda will definitely get our business again!
Tim was great! He was very friendly and helpful. I love my new Honda CR-V! They helped me get the one I really wanted. Thanks again! :)
I have been getting work done on three family Hondas at Tuscaloosa Townsend for many years and have now bought two Hondas there in recent years. The attention I get from the staff is always courteous and honest. Staff appear to know their jobs well so that any technical questions get ready answers. Special deals on work done there for me have been the rule. I often come by in person and ask questions or schedule work to be done in an informal way. My problems always get resolved to my satisfaction. Working with the sales staff has been a pleasure as well. They know their product and are eager to please. I would recommend this dealership highly for the staff and the wonderful cars.

Welcome to Townsend Honda
Townsend Honda is a family-owned dealership that has been serving the Tuscaloosa area for over 40 years. Our inventory is stocked with an extensive selection of Honda models. We carry popular vehicles like the Honda CR-V, Odyssey, Pilot, Accord and Civic. In addition to our new inventory, Townsend Honda offers a selection of pre-owned vehicles from Honda and other brands.
Townsend Honda offers a service center to Tuscaloosa Honda owners. Our service center is able to handle routine maintenance needs, such as oil changes or tire rotations.
The Townsend Honda website provides a variety of services to visitors. Here you can learn more about the vehicles and services we have to offer at Townsend Honda. Scheduling a test drive or service appointment, ordering parts or contacting our team can all be done right here. If you have any questions, get in touch with our team right away or pay us a visit! We're located at 3121 Skyland Blvd E, Tuscaloosa, AL 35405
Get Directions To Townsend Honda